Jordin Sparks And David Archuleta Say No To Texting And Driving
David Archuleta performed with Jordin Sparks at the "X the TXT" event on February 3. The concert was held at the Eden Roc Renaissance Hotel in Miami Beach, Florida.
"X the TXT," a campaign sponsored by Allstate Insurance, hopes to stop the dangerous practice of texting while driving.
Back in November, Sparks said, "I am really passionate about this issue and am so thrilled to have an 'X the TXT' event at the Experience. The event is focused on encouraging people to make a difference in their communities and families. By pledging not to text and drive we can save thousands of live – choosing not to pick up the phone and keeping your eyes on the road can be the difference between life and death."
Teens and families at the event were asked to add their thumbprints to a banner as a public pledge not to drive and text.
All of the proceeds raised by her events will benefit a number of charities, including the Miami Children's Hospital. On February 4, Jordin and David delivered teddy bears to children at the hospital.
To find out more about "X the TXT," visit www.facebook.com/thumbsuppledge. || SOURCE
'American Idol': David Archuleta launches blog, looks up to 'Idol' Kris Allen
"American Idol" runner-up David Archuleta announced on his Twitter pageover the weekend that he has launched a weekend blog.
So what does the "Idol" cutie have to say?
Here's part of Archie's first post:
I'm back in Miami, and I've had such an awesome experience here! I was able to be a part of the Spanish We Are the World project "Somos El Mundo" and it was really great! Emilio and Gloria Estefan got the project together, and they along with their staff are some of the nicest people you could ever work with. This is the first time they've ever done this song in Spanish, so I'm really glad to have been a part of it with so many talented Latin artists.

I love it when people come together to help out, because it really is amazing how much strength comes when people come together. It was neat being able to help in the Hope for Haiti telethon and see how much good came from everyone coming together to unite to help the people in Haiti. There's power in numbers. The damage happened so quickly in Haiti, and now they need to recover from all that has happened there. I was watching the news last night and saw that Kris Allen went out to Haiti to help out. I thought that was so cool. I really look up to him for all that he does for other people.
He blogs under the name "Arch Angel." The official site moderator is called "Arch Angel." How cute is that? Thanks, Alert Commenter Violet4Ever.
Speaking of Kris Allen and Haiti, look for a Zap2it interview with Kris Allen about launching "Idol Gives Back" and all his U.N. work in Haiti on Monday afternoon (Feb. 22). || SOURCE
David Archuleta and Black Eyed Peas' Star Added to Spanish 'We Are the World'
Carlos Santana, Thalia, Alejandro Fernandez, Paulina Rubio and Pitbull are also confirmed to be involved in this project which music video is expected to arrive on March 1.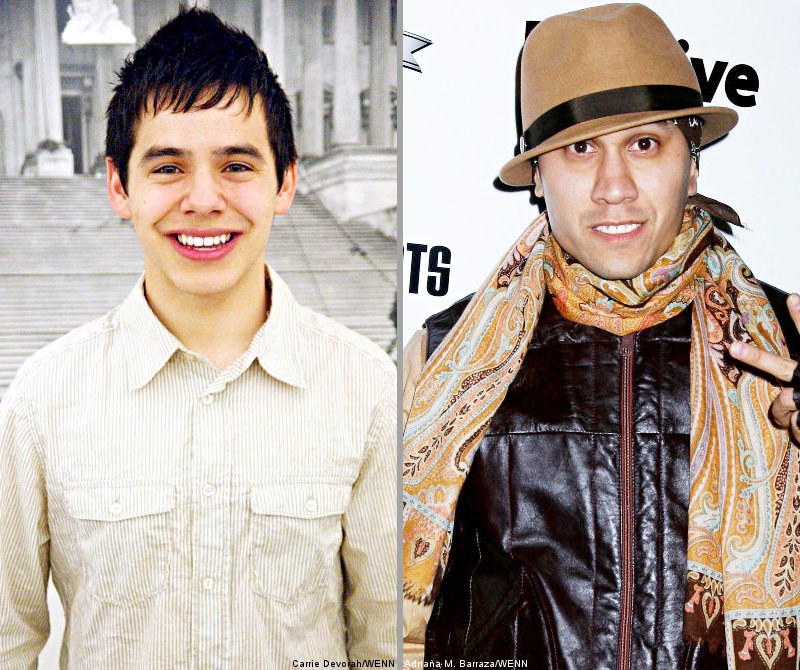 A number of renowned musicians have been added to the line-up of Gloria Estefan's "We Are the World" Spanish version. Among the newly-announced performers are David Archuleta and Taboo of the Black Eyed Peas.
So far, over 30 acts have been confirmed for the project which will also benefit Haitian relief effort like "We Are the World 25″. The involved artists include Thalia, Alejandro Fernandez, Paulina Rubio, Luis Fonsi, Carlos Santana, Andy Garcia, Pitbull and Jon Secada.
The song remake will be titled "Somos El Mundo" and is set to be recorded Friday, February 19. Its music video, meanwhile, will be debuted on March 1 on Univision's "Cristina" show. "This means the reach of the song will truly be global, because it's available not only in English but also in Spanish," said Gloria's husband Emilio Estefan, Jr. who is producing the track with Quincy Jones.
This is not the first all-star philantrophic project done by the Estefans to help those in need. Back in 2001, the family produced a star-studded song called "El Ultimo Adios" (The Last Goodbye) to benefit the families of victims of the September 11, 2001, terrorist attacks. || SOURCE
-David Archuleta gives a thumbs on the red carpet for the recording "Somos El Mundo," the Spanish version of"We Are the World."
David joined over 50 of the biggest names in Latin music to record the song to benefit Haitian earthquake victims. "Somos El Mundo" adapted into Spanish by Gloria & Emilio Estefan, marks the first time ever that the legendary recording is translated into any language, with the approval and blessing of Lionel Richie and the Michael Jackson Estate, who wrote the original lyrics.
The music video, which will air on the Univision Network, will make its world-wide premiere on "El Show de Cristina" (The Cristina Show) on March 1, 2010 at 10pm ET/PT (9pm Central) and an exclusive one-hour, behind-the-scenes special will also air on the Univision Network at a later date to be announced.
All proceeds derived from donations, iTunes downloads and retail sales of "Somos El Mundo" will be used directly by the We Are The World Foundation to benefit the Haitian cause in charitable and relief efforts. || SOURCE
David Archuleta Talks About Recording A Spanish Version Of We Are The World
[Youtube="http://www.youtube.com/watch?v=jWbxH-WIO3w"]
David Archuleta recently spoke at an interview about his excitement to record a Spanish version of the song We Are The World to help Haiti relief efforts.
Some of David's interview is in Spanish, who can translate?
Click here to learn more about the Spanish version of We Are The World and the celebrities taking part in the recording. || SOURCE
David Archuleta We Are The World LATIN
David Archuleta and Latin artists appeared in Miami, Florida to record 'Somos to El Mundo' the Spanish version of 'We Are The World' to benefit Haitian earthquake victims at American Airlines Arena. || SOURCE